Ella Blame's music has the intensity of twilight: deep, dark and luminous.





Ella Blame's music has the intensity of twilight: deep, dark and luminous.

Ella is collaborating with several electronic musicians and multi-instrumentalists from around the globe. Together, they create partially revolutionary music of genres Ethereal/Ambient, Psychedelic, and Symphonic Outer Space Music.

Let yourself be enticed into another world by Ella's unique and magic voice and ethereal and psychedelic sounds. Her music not only leaks into your mind, Ella invades it, leaving you mesmerized. Listening to her voice removes one from reality into this hypnotic and mystical realm of so many emotions and thoughts we keep secret...

New album "Bitter Tears"
http://www.cdbaby.com/ellablame2

Ella Blame is one of the most difficult to define artists I've listened to in a while. Just when you think you're flying on a magic carpet you're in that Jamiroquai video where the floor moves; halfway between a silvery Christmas jingle and a snowy coke dream. Whimsical as all hell, Blame's Bitter Tears album is an over-the-rainbow collection of electronic and ambient tracks bordering on the psychedelic and the ethereal. With a handful of international collaborators, the album has a variety of sounds and instruments ranging from Indian flutes to Celtic folk all generously sprinkled in Blame's pixie dust. Her highly robotic yet strangely sweet voice goes in and out throughout the album with operatic presence. -- Alexandra Kain, Dig This Real, Issue 14

Imagine a cross between Laurie Anderson and Bjork and you're not far from the voice of Ella Blame... Siouxsie Sioux and Happy Rhodes are others who come to mind, although Blame is difficult to pin down...Blame's delivery is intimate, beguiling, and sometimes a tad scary (that's what makes it fun). The overall musicianship on Bitter Tears is mesmerizing in a weird way, underscoring the strengths of a strange and unique voice. Not quite goth, not a cabaret vamp, but somewhere in between. -- Mark Newman, Progression Magazine, Issue 55

Ella Blame continues to make edgy yet accessible music. She's still a strong presence vocally and is not afraid of experimenting. The densely throbbing "Cyberlover" is stuff to be proud of. Blame is not one to take an easy way out when she can throw a curveball. The spooky "Incurable" tiptoes delicately round its melody like Bj?rk can do. "Bitter Tears" is haunted and dramatic, and Blame's acrobatic vocals don't let it down. It's another song that would easily fail in less assured hands. The closing "Hymn of Goodbye" is a suitable song to end the album. It's almost celestial and sweet, Blame's vocals angelic. -- Anna Maria Stj?rnell, the Ectophiles' Guide

... Right from the first song "Cyberlover" you will feel like you entered a hidden territory where there is a lot to discover...Her new CD "Bitter Tears" has 11 songs and each and everyone of them can easily be your most favorite one. Listening to Ella is like being in a big mansion, each song opens up the door to a different room... with different colors, different decorations, different time frames. By the time the CD is over you ask yourself "Where was I just now?" ... that is if you think you are back... -- Hande Burdg, TheProgFiles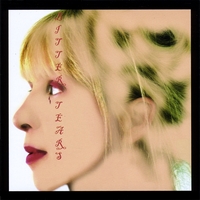 You can buy "Bitter Tears" as MP3 downloads directly from Ella's cdbaby.com page.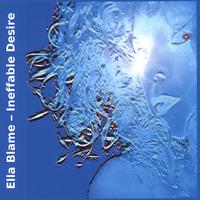 Debut CD "Ineffable Desire"
http://www.cdbaby.com/ellablame

You can buy "Ineffable Desire" as MP3 downloads directly from Ella's cdbaby.com page.

The MP3s are encoded at top-audiophile-quality (~200k VBR), higher than iTunes or any other major store.

Ella Blame's debut CD "Ineffable Desire" is also available on iTunes, Rhapsody, Napster, MSN Music and AOL Music Now.

This CD should have a warning label: "May induce a state of altered consciousness with distorted perceptions of space and time. Do not drive or operate machinery while listening to this music." Ella Blame's Ineffable Desire grabs you by the synapses and delivers an endless stream of audio stimuli that completely dominate your attention. This is music you don't simply listen to - you experience it... Ella Blame is innovative, perhaps ahead of her time. But the day will come when this music is the pop music of a new generation, and Ineffable Desire will likely be held up as the seminal album of the genre. -- Kenny Hart, Indie-Music.com

...Then, in the frenetic "Thought Control" and the experimental "Another Side," both with music by guest collaborator Shinji Imai, Blame shows off the baritone end of her huge range, along with her hisses and moans and piercing high notes. She unveils a fluttery soprano for the spooky, deceptively simple ballad "I Can't Sleep." In fact, it wouldn't be too much of an exaggeration to say that Blame's voice is to a normal person's voice as Robert Patrick's shape-shifting Terminator was to the stolidly anthropomorphic Schwartzenegger model... -- Jon Sobel, BlogCritics

...Ineffable Desire, though, is full of blood and soul. And madness. Off-kilter, 4:00 A.M. raw, dark-night-of-the-soul madness. The CD cover with an outlandish ray of light beaming out of one of Ella's eyes conveys all of this... Her voice, the heart and soul of the record, is the first thing that boggles the mind. Many of the songs have her voice covering almost her full range (she covers low middle and high registers with bull's-eye accuracy). The madness comes from fear, confronting death, life intensity, longing itself, frustrated desire. Ineffable desire... You have been warned. -- Mark Kirby, MusicDish